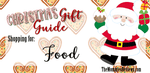 Founded in 2015 by Maya Madsen, former personal trainer and fitness model, Maya's Cookies is America's #1 Black-Owned Gourmet Vegan Cookie Company. 
Alongside providing the highest quality product that appeals to everyone, Maya's Cookies is committed to superior customer service and community engagement, with a focus on youth and underserved communities. Maya's Cookies ships nationwide.
This Holiday, Maya has put together a beautiful Holiday Tin with delicious seasonal flavors.
There are three Gourmet Vegan combinations available:
· Deluxe
o 8 Cookies
4 Flavors (2 each) Gingerbread, Classic Sugar, White Chocolate Cranberry, and Chocolate Peppermint S'mores
o Beautifully packaged in a custom Holiday Tin
o Price: $50
· Gingerbread
o 8 Cookies
o All Gingerbread
o Beautifully packaged in a custom Holiday Tin  
o Price: $45
o 8 Cookies
o 4 Gingerbread & 4 Classic Sugar Cookies
o Beautifully packaged in a custom Holiday Tin 
o Price: $45 
Check out the full guide here