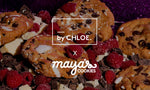 FOR IMMEDIATE RELEASE:
by CHLOE. X Maya's Cookies Collaborate on Special Cookie for International Women's Month
Popular Plant-Based Restaurant and America's #1 Black-Owned Gourmet Vegan Cookie Company Debut Limited Time Only Cookie Nationwide to Support La Cocina
New York, NY (March 1, 2021) — by CHLOE. and Maya's Cookies are pleased to announce the launch of the Raspberry Double Chip cookie, created in collaboration to celebrate International Women's Month.  The specialty cookie is available exclusively at all operating by CHLOE. locations and via the Maya's Cookies website for nationwide shipping.  A portion of the proceeds goes to benefit La Cocina, a nonprofit kitchen incubator working to solve problems of equity in business ownership for women, immigrants, and people of color.
"We have been huge fans of Maya's Cookies for some time now and are just thrilled to offer our guests not only a new treat on the menu, but one made by such a fan favorite brand that benefits women in the hospitality industry," said Catey Mark Meyers, Chief of Staff of by CHLOE.
Maya's Cookies founder Maya Madsen adds, "by CHLOE. and Maya's Cookies are a terrific fit as we are both passionate about delivering delicious, elevated plant-based food experiences. The Raspberry Double Chip cookie is an entirely new flavor we created for International Women's Month to raise visibility for female entrepreneurs in the hospitality industry and celebrate their dynamic contributions!"
The Raspberry Double Chip cookie is available for the month of March at all participating by CHLOE. locations in New York, Los Angeles, Boston, and Providence, RI and for nationwide shipping on www.mayascookies.com
Details
This cookie begins with the classic Maya's Cookies brown sugar dough base as semi-sweet chocolate chips are rolled in alongside chunks of premier white chocolate. The raspberries are rolled in last to add the dynamic fruity flavor that adds an unexpected twist that makes this cookie so delicious!                        
Price: $4 each @ by CHLOE locations/$24 for six (6) cookies (+ shipping) on Maya's Cookies website
About by CHLOE. 
by CHLOE. is a purpose-fueled company committed to providing delicious plant-based food that debuted in New York City in 2015. A fast casual restaurant group with over a dozen locations throughout the world, by CHLOE. offers a creative vegan menu of house-made burgers, sandwiches, salads, and baked sweets. A destination for vegans and omnivores alike, by CHLOE. continues to innovate its offerings, while staying true to the brand's core values of making plant-based food accessible and promoting the environmental benefits of plant-based living. by CHLOE.'s global locations include Boston, MA; Silverlake, CA; Providence, RI; Toronto, Canada and London, UK, with plans to grow in Southern California and open its first outpost in the Middle East in 2021. https://eatbychloe.com
About Maya's Cookies
Founded in 2015 by Maya Madsen, Maya's Cookies is America's #1 Black-Owned Gourmet Vegan Cookie Company. As a vegan with a sweet tooth, she had not been able to find that perfectly delicious, soft-baked gourmet vegan cookie, so she spent years crafting her award-winning and crowd-pleasing recipes. From the classic to unique and forward-thinking flavors such as "Chocolate Chip S'mores" and "Marble Fudge", every flavor has a story grounded in Maya's travels, memories, and experiences. Alongside providing the highest quality product that appeals to everyone, Maya's Cookies is committed to superior customer service and community engagement, with a focus on youth and underserved communities. Maya's Cookies ships nationwide- simply order as a treat for yourself or as a gift. https://www.mayascookies.com
About La Cocina
La Cocina is a 501(c)3 nonprofit that works to solve problems of equity in business ownership; inclusivity in the mainstream American marketplace; barriers to entry for women, people of color, and immigrant business owners; and the too-high cost of entry for the food industry generally. During the pandemic, La Cocina has pivoted from business incubation to supporting the survival of 74 active businesses. Learn more about our COVID relief efforts at https://lacocinasf.org/covid19.
FOR MORE INFORMATION on by CHLOE. , PLEASE CONTACT BALTZ & COMPANY:
VANESSA VEGA/vvega@baltzco.com
FOR MORE INFORMATION on Maya's Cookies, PLEASE CONTACT: