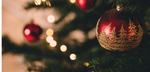 Every year I post holiday gift idea guides (check out past years here) but I like to feature small, independent brands so you can discover some cool ideas you might not have thought of on your own. This year I'm featuring BIPOC owned brands, woman-owned brands, ethical and sustainable brands, and artists in my gift guides.
I don't have to tell you how much small businesses need our support this year, so I hope getting all these guides about before Shop Small Saturday will give you time to shop early, and — of course! — shop small.
MAYA'S COOKIES
Maya's Cookies is a Black-woman-owned vegan cookie company that ships nationwide, so they'd make a perfect gift option if you want to send something sweet to someone you can't be with this holiday season. All of their cookies are vegan, but they also have a large selection of gluten-free options. And they do gift tins, including a cute holiday tin of vegan gingerbread cookies!
Read the full guide here