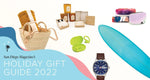 The ultimate gift guide to show some love to our community this season, featuring our favorite brands that were founded right here
San Diego Magazine - Nicolle Monico, Kayla Barber, Lilly Corcoran, Kelly Davis 
Nov 23, 2022
It's that time of year again. Glittering lights around every corner, festive holiday parties, carbs-on-carbs-on-carbs, and family gatherings complete with plenty of wine. If you're shopping for your loved ones this season, our holiday gift guide is one of the best ways to support local while also gifting your family and friends with some really cool presents.
This year, we put together a mix of items that feel very San Diego, whether due to their backstories, a nod to our SoCal lifestyles, or just because it's cool sh*t that we want ourselves (mom, are you reading this?). Click on the categories below to search specific items or browse the more than 30 gifts that we hand-selected just for you. 
Food & Drink
Caribou Wood Designs
Handmade Cocktail Muddler, $45
This essential cocktail-making tool—used to mash up ingredients for cocktails like Mojitos, Mint Juleps and Old Fashioneds—is handmade by San Diego-based Caribou Wood Designs. The muddlers are sturdy and beautiful, and are made from Bocote, a dark-striped exotic wood from Southern Mexico. You can find these at Collins & Coupe in North Park. 
Mrs. G's Jellies
Hot Pepper Jellies Sampler Collection, $32
What started as unique holiday gifts for friends more than 20 years ago has become a full-time gig for Cindy Greaver (Mrs. G). Mrs. G's offers small batch, hand-crafted hot pepper jellies. Her sampler pack is a good intro to her products and includes four flavors: Mango Ginger Habanero, Jalapeño Garlic Lime, Peach Habanero, and Ja-Ha.
Nostalgia Coffee
Brew Bags, $25
For the coffee-lover on-the-go, check out Nostalgia Coffee. The brand created their own brew bags, similar to the typical tea bags you see on the market, which allow you to make your daily Cup O' Joe without the need for a coffee maker or daily run to Starbucks. Just dunk your bag 5-15 times in hot water, remove, and enjoy. Easy.
Cravory Cookies
Best Seller's Mix, $36 
If you're not over-indulging on cookies this month are you even being festive? This holiday season, Cravory Cookies is offering an assortment of their best sellers (birthday cake, chocolate chip, cookie monster, lemon bar, salted caramel cream and red velvet), baked fresh in San Diego. They can be shipped within 24 hours, so buy them for friends or send them right to your doorstep. We won't judge.
Mayas Cookies
DIY Cookie Decorating Kit, $40
Everything you need to get into the holiday baking spirit can be found in the Mayas Cookie's DIY Cookie Decorating Kit. Find six gingerbread cookies, ready-to-use icing and piping bag, and assorted candies and sprinkles. Grab the little ones or invite your friends over for a cookie-decorating (and eating) party.
R&D Bitters
Bitters Gift Set, $22
Founded in 2014 by San Diego bartenders, Ryan Andrews, Eric Lockridge and Brett Winfield, R&D Bitters has slowly grown its line from the citrus-and-spice classic, Aromatic #7, to eight options. Pick a set of three for your favorite cocktail aficionado, like the Floral (it adds a magic touch to a classic Aviation), Cherry Apple (excellent in an Old Fashioned) or Fire bitters to add some heat to a Margarita.
Curious Juniper
Simple Syrups, $16
Curious Juniper, San Diego's first craft simple syrup company is a woman-owned business which is dedicated to sourcing ingredients responsibly, joining climate awareness initiatives, and offsetting manufacturing and delivery omissions to protect the environment. Their line of simple syrups feature an assortment of flavors from rich to floral to spicy. There's something for every cocktail lover (for non-cocktail drinkers, the syrups can be added to soda water). Grab the festive Brown Sugar + Cinnamon or Pumpkin + Spice syrups for the host or hostess in your life. 
Classic San Diego
Ninety Years of Classic San Diego Tiki, $39.99
Martin S. Lindsay's Ninety Years of Classic San Diego Tiki celebrates "San Diego's Polynesian pop culture, tiki restaurants, bars and cuisine," beginning with the opening of The Aloha Café in Tijuana in 1928 during Prohibition. The book features stories, gorgeous photographs, classic recipes and ephemera from now-shuttered bars and restaurants like The Kon-Tiki, Don the Beachcomber and the Cat Eye Club, making it the perfect gift for cocktail-loving historians. 
You & Yours Distilling
Saturnalia Gin, $47
Fans of tiki cocktails are used to intoxicating combinations of rum, but the Saturn (a tiki classic), is the genre's rare gin cocktails. For its spot-on Saturn, South Park bar Mothership tapped East Village distillery You & Yours to create the Mothership Saturnalia gin. This American-style gin has lots of baking spice and citrus notes, making it great for a Saturn and a sure-hit with your favorite gin lover. Bottles are available for purchase at Mothership.
Cutwater Spirits
Heaters, $14
Cutwater has been a vanguard when it comes to canned cocktails, with more than two dozen quality offerings. For the colder months, Cutwater has introduced a trio of "Heaters" based on beloved warm cocktails: Whiskey Hot Toddy, Hot Buttered Rum and Vodka Apple Pie (try it topped with whipped cream). Just add five ounces of hot water and an ounce-and-a-half of Heater. You can gift a whole set (each bottle makes eight cocktails) or bring one to a party as a host/hostess gift. And if your giftee prefers chilled drinks, Cutwater's Bali Hai Tiki Holiday Spirit is like a tropical White Russian—what The Dude would drink on his Christmas trip to Barbados.