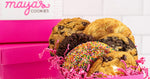 Show these amazing brands some love!
Practice intersectional feminism this Women's History Month by supporting brands that are owned by women of color. Don't know where to start? Check out this list of 10 Black women-owned vegan businesses you need to know.
Vegan cookies that ship nationwide? Say less. Well, we're actually going to say more because we love this Black woman-owned brand so much. Maya's Cookies baked goods showcase the perfect balance of a soft inside, crispy outside, and sweet taste. If we had to eat one flavor for the rest of our lives, it would definitely be Chocolate Chip S'mores!
After turning down a $1 million offer on Shark Tank, Deborah Torres continues to grow her vegan food brand far and wide. You can currently order Atlas Monroe's droolworthy vegan fried chicken and more for nationwide delivery. Or try it at one of their restaurant partners scattered around the country!
One of Tabitha Brown's many ventures? Co-owning and operating a vegan haircare company alongside her business partner Gina Woods. Donna's Recipe's portfolio includes a variety of all-natural products formulated for Black women to stimulate hair growth.
This Black-owned vegan bakery offers unique vegan cookies inspired by Jamaican flavors. We suggest sending their limited-edition Women's History Month Cookie Gift Bag to the empowering women in your life! It includes a bag of cookies, a personalized note from you, and a note from founder Danielle "Tubby" Tubbs on what Women's History Month means to her business.
Replenish your makeup bag with the stellar cruelty-free cosmetics from The Lip Bar! Founded by Melissa Butler, this vegan makeup brand offers products in a wide variety of shades for people of all skin colors. Buy The Lip Bar products online, at their Detroit location, or at Target and Walmart stores nationwide.
From matcha mixes and mushroom powder to vegan collagen and face masks, Golde stocks stellar superfood self-care products! So the next time you need a gift for someone special, consider supporting this Black women-owned brand.
Looking for quick, flavorful vegan meals to make at home? Order the Philly Cheesestayk and BBQ Rib Tips from Karelyn's Vegan. Both pre-seasoned, pre-cooked vegan meal kits cook in 10 minutes or less. No other prep required!
Customers can't get enough of Joséphine Cosmetics' waterproof eyeliner, matte lipstick, and liquid metallic eyeshadow. If you need any of these products or any other makeup essentials, give this Black-owned vegan makeup brand a try!
Want fresh-baked vegan desserts without baking them yourself? Place an order from Mo'Pweeze Bakery. Brownies, bread, muffins, donuts, cookies, and seasonal sweets—you name it, they got it!
No matter your hair texture and goals, OBIA Naturals has you covered! Their line of vegan, pH-balanced hair and body care products feature science-based formulas using natural ingredients and herbs. Find your ideal products online or in major retail stores across the country.