Published by .
Social distancing at home just got a little sweeter, because these vegan bakeries across the country will deliver baked goods straight to your door, so you don't have to leave the comfort of your home. These sweet treats are made with love and without any animal-derived ingredients, so you can enjoy them while knowing that animals didn't have to suffer. By using vegan ingredients instead of cow's milk, butter, eggs, and honey, these bakeries are demonstrating compassion for animals.
Cows used in the dairy industry are forcibly impregnated so that they continually produce milk, and the babies of these loving mothers are taken away so that humans can steal the milk. That's just one example showing why it's so important to choose vegan options!
Whether you're craving something new or looking for the perfect gift for a loved one, these vegan bakeries have what you're looking for—and they ship nationwide.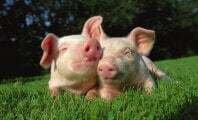 Order Your FREE Vegan Starter Kit
---
When you go vegan, you open up a whole new world of vegan deliciousness, and baked goods are just the beginning. If you're looking for other indulgent treats, try some vegan ice cream or doughnuts or perhaps bake a treat of your own.
LEARN WHY PEOPLE GO VEGAN—AND HOW YOU CAN, TOO