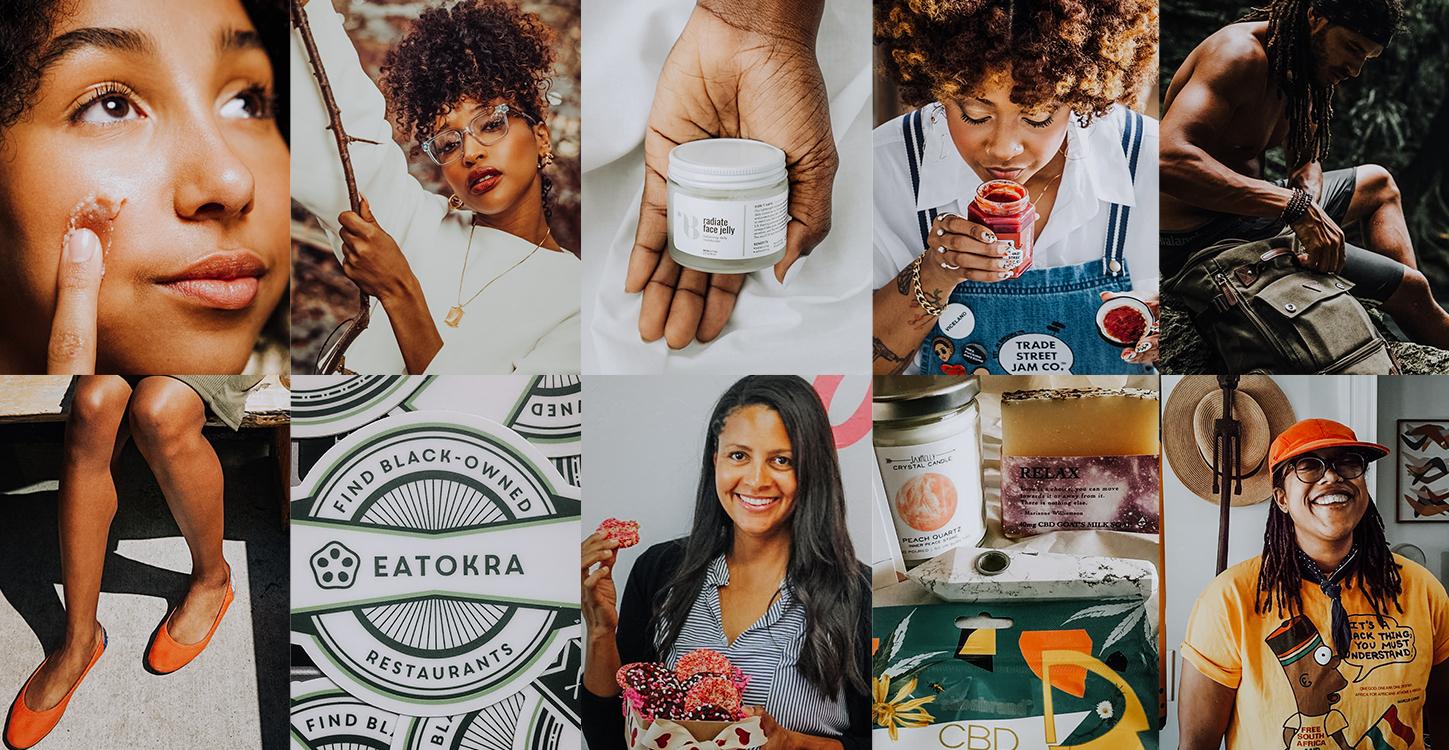 SOURCE: COURTESY OF BRANDS.
Shopping has certainly changed during the coronavirus pandemic. With stores around the world temporarily closing due to lockdowns, many consumers are turning to online shopping, especially from small businesses who may need an extra boost due to the current state of the economy. So if you have money to spare right now, why not support a Black-owned, sustainable small business next time you shop online?
The internet is filled with numerous small businesses run by awesome Black entrepreneurs, many of whom offer sustainably-made goods you can order online. Read on for 10 Black-owned, sustainable small businesses that have something for everyone, from jewelry to shoes to skincare to cookies to jam.
Fashion
Enbois Originals
Enbois Originals founder Maxim Thuriere started his fashion company from his dorm room when he was a college junior — and today, the small business continues to grow. Enbois sells sustainably-crafted, non-toxic accessories and jewelry, including wooden bracelets, watches, necklaces and iPhone cases, as well as backpacks and T-shirts. For each item sold, Enbois plants a tree to support reforestation efforts in Haiti and across the Caribbean.
Thando's
Thando's makes foldable ballet flats inspired by the founders' love of Africa. The patterns are designed by African artists, and made with fabric purchased directly from Nigerian women in the fabric trade. The company is currently in the process of moving to Ethiopia, something the cofounders Taffi and J.G. Ayodele have dreamed about doing for years. That means Thando's is currently on a production hiatus — but the brand's shoes are available for preorder.
Bôhten
Bôhten makes prescription glasses in Africa, using discarded materials and reclaimed wood that are sustainably sourced across the continent. Nana Boateng Osei founded Bôhten to "combine a love of nature, style and Africa," and the company's gorgeous and unique eyewear got a boost in a 2014 episode of Dragon's Den (the Canadian version of Shark Tank).
Home Decor 
BLK MKT Vintage
BLK MKT Vintage's co-founders Jannah Handy and Kiyanna Stewart curate their Brooklyn-based vintage store to be filled with vintage Black collectibles and cast-offs that represent Black history and the Black experience. The store, which first opened in 2014, is currently closed due to COVID-19, but you can still shop vintage goodies that celebrate Black history and experiences on BLK MKT Vintage's website.
Rituals and Ceremony
Rituals and Ceremony is a home goods and lifestyle store dedicated to self care. Curated by Sarah Williams, the shop is located in the Crown Heights neighborhood in Brooklyn. On Rituals and Ceremony's website, you can order sage sticks, aroma oils, candles, CBD, natural deodorant, throw blankets, and more.
Beauty
Nyakio
Nyakio is a cruelty-free skincare brand founded by Nyakio Kamoche Grieco, a first-generation American of Kenyan descent, according to Essence. The company is inspired by the skincare secrets Grieco first learned as a child visiting her grandmother in Kenya. Nyakio's products are available in-store and online from Target. 
Base Butter
Founded by She'Neil Johnson and Nicolette Graves, Base Butter makes crowdsourced skincare products that celebrate the "depth, breadth and uniqueness of complexion." Base Butter is best known for its Radiate Face Jelly, a lightweight moisturizer, and the company also makes a Sustainable Makeup Remover and reusable cleansing cloth. Base Butter's products are not tested on animals and they contain no animal ingredients.
Food
Maya's Cookies
Eating a plant-based diet is one of the best lifestyle choices we can make to protect the environment — so why not treat yourself (or a loved one) to a delivery of ooey-gooey vegan cookies? Maya's Cookies ships vegan small-batch cookies across the U.S., each of which is mixed by hand by the founder, Maya.
Eat Okra
The app Eat Okra contains a database of more than 2,250 Black-owned restaurants across the U.S. that you can support by ordering their food. The app is run by a team of three Black developers and designers: Anthony, Janique, and Justin. Support a Black-owned restaurant and enjoy an environmentally-friendly meal by searching Eat Okra for a Black-owned vegan restaurant, or one with vegan options.
Trade Street Jam Co.
Founded by Ashley Marie Rouse, Trade Street Jam Co. makes flavorful jams that are low-sugar, vegan, completely free of preservatives, and packaged in reusable glass jars. The jams come in unique flavors, such as Plum + Rose, Blueberry Lemon Basil, and Blackberry Mulled Merlot. Trade Street Jam Co. even offers a jam of the month club.
If you are looking for ways to donate your time or money to Black Lives Matter and other antiracist organizations, we have created a list of resources to get you started.